2030 Water Resources Group
1127 Graphic Design is a company that prides itself on quality outputs and clear communication, and rightfully so. From our very first interaction up to the site's public launch, Wolffang and his team made great effort understanding our particular needs and delivering on them quickly. The team was extremely responsive, friendly, and tireless in its professionalism. www.2030wrg.org, a World Bank Group affiliate, is proof and testament of 1127 Graphic Design's hard work, vision, and quality as a partner in cutting edge web development and ideation.
Nidal Mahmoud
2030 Water Resources Group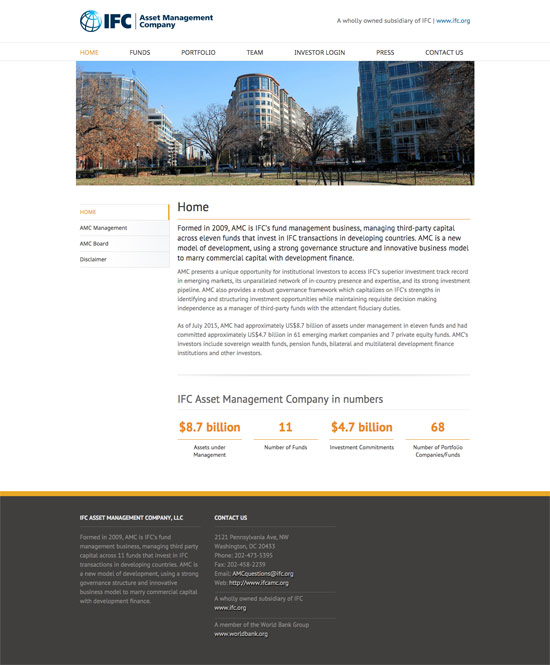 IFC Asset Management Company, LLC
IFC Asset Management Company worked with 1127 Graphic Design and his team in the design and launch of our new external website. I was extremely impressed with both the quality of work delivered by 1127gd as well as his professionalism and work ethic. Wolffang delivered all aspects of the project on time and throughout the entire process he provided guidance and suggestions for improving the user experience. He did not simply deliver a product but was actively involved with us on a near daily basis improving the website and suggesting enhancements. Over the course of the project, we had a number of changes and Wolffang and his team quickly implemented the changes, usually the same day we made our request. The end product looks very professional and as a team, we feel that it conveys an image that AMC is proud of. I hope and intend to work with Wolffang again on different projects for AMC.
Christopher Doppman
IFC Asset Management Company, LLC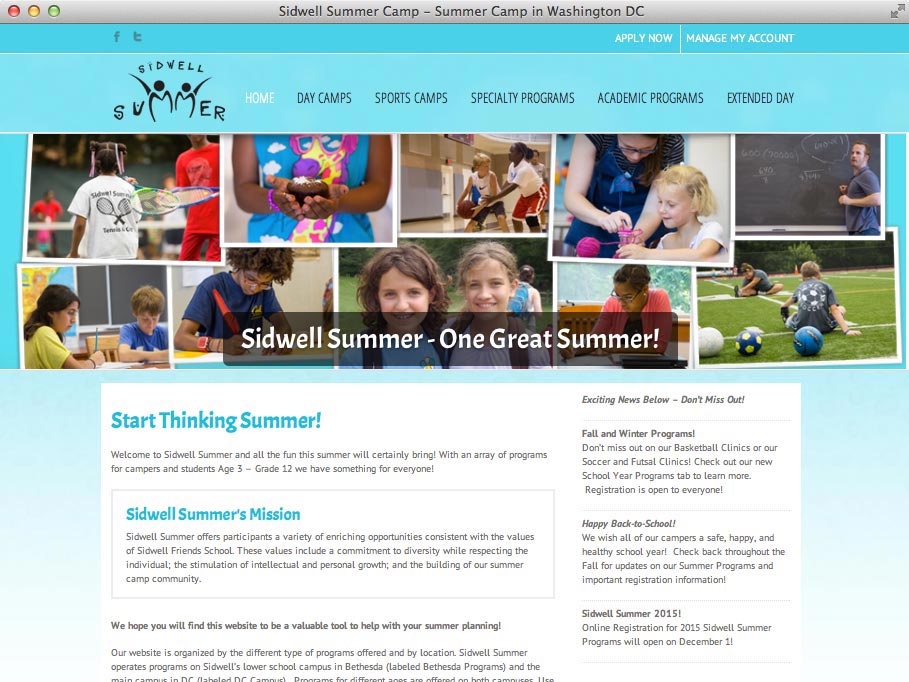 Sidwell Summer Camp
We decided to re-design our website in September with a launch date of December 1st – an ambitious timeframe! Wolffang was incredibly easy to work with – from the initial phone call regarding the project steps and the beginning review of design ideas to the final edits and the finishing touches. As a non-technical person, I appreciate his explanations and suggestions on how to best format the page (e.g. google searches, placement of links and how to set up the how site). His attention to detail on the design and commitment to meeting our deadlines was wonderful. We love our final product and it seems our clients do too!
Karen McCann McClelland
Sidwell Summer Camp
Sheridan Mountain Campus
I'd like to thank you for the redesign of our website. You did a wonderful job creating a professional, updated look while still capturing our rustic landscape, educational fun and the excitement of our programs. I really appreciated your flexibility, availability for questions, affordability and efficiency on our project.
Morgan Riggs
Sheridan Mountain Campus
IFC Asset Management Company, LLC
I have been working with Mr. Wolffang Guzman on the design of our annual review document and will also need his assistance in printing the document. Our experience with him has been very good. He is knowledgeable about his work, understands our requirements, responds on a timely basis and provides credible advise when needed. I will recommend him for other work he may pursue.
Aziz Rattani
IFC Asset Management Company, LLC